When:
May 5, 2017 @ 7:30 pm – 9:15 pm
2017-05-05T19:30:00+00:00
2017-05-05T21:15:00+00:00
Where:
Adat Shalom
7777 LBJ Freeway
Dallas 75251
"Independence Day" is the national day of Israel, commemorating the Israeli Declaration of Independence in 1948.
Israel's Independence Day is celebrated on the fifth day of the month of Iyar, which is the Hebrew date of the formal establishment of the State of Israel, when members of the "provisional government" read and signed a Declaration of Independence in Tel Aviv. The original date corresponded to May 14, 1948.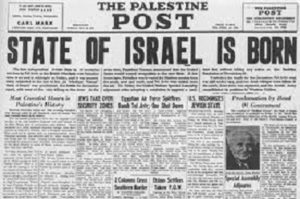 Most of the Jewish communities in the Western world have incorporated this modern holiday into their calendars, but some North American Jewish communities hold the public celebrations on a following Sunday in order to attract more participation. In the State of Israel it is a formal holiday, so almost everyone has the day off.
Join us as we celebrate the birth of the nation of ISRAEL!
Messianic Artist, Ted Pearce will be sure to make the night a grand celebration. 
Invite your friends!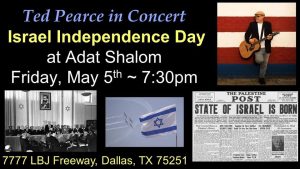 The concert is FREE, but a love offering  will be taken.

Yom Ha'atzmaut in Israel is always preceded by Yom Hazikaron, Israel's Memorial Day for the fallen soldiers. The message of linking these two days is clear: Israelis owe their independence–the very existence of the state–to the soldiers who sacrificed their lives for their  homeland.