When:
April 28, 2017 @ 7:30 pm – 9:15 pm
2017-04-28T19:30:00+00:00
2017-04-28T21:15:00+00:00
Where:
Adat Shalom
7777 LBJ Freeway
Dallas 75251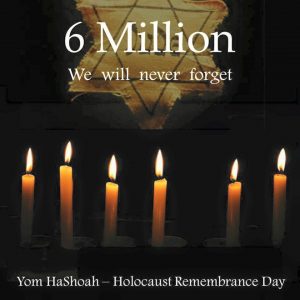 Yom HaShoah, also known as Holocaust Remembrance Day, is a day that we commemorate the 6 Million Jewish people who were lost in the Holocaust. It's an opportunity to honor them and to teach the next generation to NEVER FORGET! This is becoming harder and harder as so many of the Holocuast survivors pass away and schools are not teaching about the Holocaust as an important part of history. We are seeing anti-Semitism raise its ugly head more and more around the world. It is our duty to share God's promises to the Jewish people, including the Good News of the Messiah.